<![if !supportEmptyParas]> <![endif]>
THE OLD DOG
<![if !supportEmptyParas]> <![endif]>
Old books and old buildings draw me in. Within old books I've found treasures of history. Within old houses I've found spectacular architecture, fascinating life styles and wonderful people with wonderful stories. I like old books, I like old houses; so, it was no surprise when I decided my next dog would be an old dog.
After a lifetime collection of adopted pound dogs, picking the sad eyed waif huddling in the corner, or taking in a family member's "found" dog, it was time for me to launch into modern technology. I was off to the search on the Internet, specifically www.PetFinder.com. For those of you who don't know, this is the search site for animal lovers! It is especially the search sight for animal lovers who know exactly who or what they want to rescue. It is a rescue only site and there are categories from "barnyard" to "small and furry." I jumped right onto "dog."
<![if !vml]>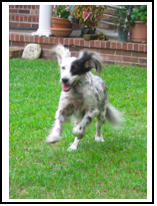 <![endif]> Most important, I wanted an old dog. None of that chewing and piddling. None of that house training and leash training. After three children and ample animals, I was searching for a dog settled in their ways, lovable and obedient. In short, I wanted to know what I was getting.
Here's another insight for those who don't know. Mutts are wonderful and I've had my share, but this time I knew the breed I wanted. Don't feed a puppy mill with your greenbacks, for among the mixed-up mutts, there is every breed imaginable available from Affenpinscher to Yorkshire Terrier, all rescued, on Petfinder.com. Once upon a time I lived with a "found" purebred dog, whose breed I will not disclose here. Morgan was stubborn, untrainable, intractable, and too low to the ground for me to move. In short, living with that breed once, for me, was enough. To each his own! This time I was picking the breed and I knew what I wanted. I typed in English Setter.
I wanted an old dog and I wanted an English Setter, the affectionate personality with none of the puppy or teenager stuff of youth. For those of you who don't know the breed, no, they are not longhaired Dalmatians. Here in Retriever country, I am asked that often when folks see my chosen old "puppy." English Setters are the beautiful "bird dogs" of field and stream, pheasant and quail hunter/ retrievers. Bred as companion dogs, they are the sweetest dogs, gentle temperament, aiming to please and wonderful family dogs. The only thing English setters have in common with Dalmatians are their multitudinous spots.
I set off on my mission. After about two months of checking PetFinder, I saw Annie. Her photo caught my attention first; she was so sweet looking. I called her rescuer; Annie's story grabbed my heart, permanently. Annie was a puppy mill mom. The beautiful blue belton setter was bred year upon year, producing litter after litter. Finished with her, the breeder handed her off to a hunter. Annie, the bird dog who spent her life in a kennel producing puppies for profit, was turned into the pound with a note "Will not hunt the way I want." Annie was eight years old. A Good Samaritan redeemed her the day before she was scheduled for execution. "I couldn't leave her there," were the rescuer's words.
Annie was in Virginia, Wise to be exact. I was in Charleston, South Carolina to be specific. None of that mattered. I wanted that dog! I told Annie's angel, the lady who saved her, it would be a month before I could drive up to adopt her, maybe someone else would ask for her first. "No", I was told, "few people want old dogs. Annie is yours, she goes off PetFinder today."
<![if !vml]>
<![endif]> One month later I fetched my "ancient" Annie, eight-years-old, to her "furever" home. She had never, ever, lived inside, yet she was housebroken from the first day. She knew the commands "Come", "Sit," and "Stay." Say "No" and Annie freezes until you release her. She is that easy to train. I will say that gentle temperament and wanting to please you was a reason for wanting the setter. Another reason for adopting an old dog - you know just who is moving in with you.
For the first week, having a large fenced in yard, my new "baby" ran and trotted an elongated figure 8 at the back door. I realized immediately that Annie had learned this exercise pattern in a kennel. She would trot that figure 8 for what seemed an eternity. Here was my big back yard, now hers, complete with birds, grass and a back section of overgrown "wild-life habitat", yet Annie ran her figure 8 at the back door. She resembled an Olympian training for the ice skating compulsories, follow the line, over and over. A week or so later she realized that she owned the yard, totally. No more figure 8's. Now Annie enjoys being mistress of the "back 40" and prances wherever and whenever she chooses. Joy for her and joy for me to see.
There is such joy in seeing an old dog, especially one with Annie's history, happy! Say the word "Walk" or "Ride" and she dances, I mean really dances! She is so full of happiness and spirit, one can't help but celebrate with her. Once the leash is on, old Annie heels perfectly. Debbie, a four-year-old who lives up our street, cannot walk the family dog who tugs and pulls, but Debbie takes a leashed Annie on walks. The setter, as you might guess, weighs more than the little girl. Not only can you teach old dogs new tricks, they want to learn, and love is the reward!
On the other hand, Annie has never understood that she no longer needs many of her previously learned survival techniques. My now eleven-year-old puppy is in some ways obsessive compulsive. She must turn a circle, counterclockwise, before coming inside. Some days require two or three circles, turning as a slow motion hurricane does on the radar screen. She must never, ever, step on an iron grate or into a puddle of water; I have no idea what drives her fears. She is terrified of narrow passages, yet will always come when called, racing "the gauntlet" in terror.
Her quirks, you must admit, are kind of cute, a part of her personality and my neighborhood has embraced Annie. Just last week, as I crossed the street to speak with Janet, while another neighbor strolled by walking her dog. I called out "Don't worry. Annie won't leave her yard." The answer came back, "I know, she is the perfect dog."
Annie, adopted at age eight, is now eleven. My Annie is a non-speaking spokesdog for the world of old dogs. Rescue one, adopt one and/or support those who do! Every tale should have such a happy ending.
Ruth M. Miller
Annie's Mom
<![if !supportEmptyParas]> <![endif]>
<![if !supportEmptyParas]> <![endif]>
Addendum
<![if !supportEmptyParas]> <![endif]>
In 2010, Annie passed to doggie heaven. She is buried in the country with her favorite bed.
<![if !supportEmptyParas]> <![endif]>
Now I live with Freddie, the English Setter, whom I also found on PetFinder.com. Freddie was seized at the age of 5 from a breeder who had him chained to an oil drum doghouse. I am happy to say he now romps, runs, and jumps over every square inch of what is, most definitely, his backyard. He is so happy leaping over every azalea and he is the only dog I have ever seen who can turn a full circle in mid-air while running in a straight line. This self-taught canine agility expert also received his "Canine Good Citizen" award the first time he tried.
<![if !supportEmptyParas]> <![endif]>
<![if !vml]>
<![endif]>Freddie, the setter, is happy to tell you he is the first adoptee to sponsor a kennel at his rescuing agency, Colleton County Animal and Environmental Control, Walterboro, South Carolina. He asks you, too, to help care for the innocents of the world.
<![if !supportEmptyParas]> <![endif]>
<![if !supportEmptyParas]> <![endif]>